01.02
Londres: Liberty of London & Manish Arora
Also in English!

Oui je sais, vous connaissez surement déjà ce grand magasin (hors de prix) mais tant pis, il est tellement beau que je dois vous en parler. Liberty est situé dans la Regent Street, en plein centre. J'aime sa façade qui pourrait presque faire strasbourgeoise.

London: Liberty of London and Manish Arora
Yes I know, you probably already know about this great though expensive shop but well it's so beautiful that I must tell you about it. Liberty is located in Regent Street and has a so lovely front.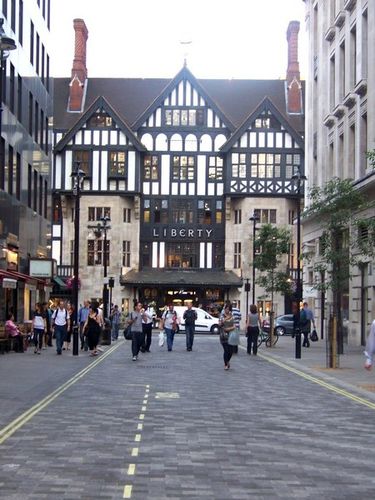 A l'intérieur, on déambule d'étages en étages, en admirant les boiseries et également tous les objets de déco à motif Liberty - hé oui, le nom vient de là. Des fleurettes, des imprimés cashmere, des plumes de paon, vraiment un plaisir pour les yeux. C'est juste quand on regarde les prix que le bât blesse. Du type "oh qu'il est beau ce petit carnet de notes. Ouille 50 Livres". Mais bon, ceci dit, ne manquez pas l'endroit car c'est vraiment magnifique.

Inside, we wander from floor to floor, admiring the woodwork and every decorative Liberty print objects - ah yes, the name comes from that. Flowers, cashmere, peacock feathers, it's really a joy. Only the prices are a bit painful: "oh this notebook is soooo gorgeous, ouch 50£". But hey, even if you can't afford it, still go there as the place is so gorgeous!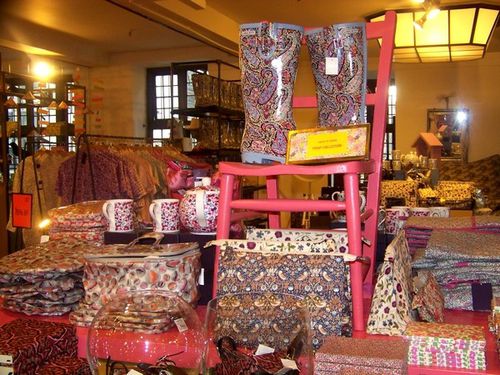 Et en fouinant bien, j'ai pu dégoter une jolie boite à post-it, tellement craquante qu'au final, on n'a même pas envie d'utiliser ce beau papier kaki, de peur de ne pas en retrouver dans la même teinte (oui je suis grave, vous avez le droit de le penser tout haut).

While looking , I found a lovely post-it box, so irresistible that actually I don't use it that much to be sure to keep some of this beautiful khaki paper forever (yep, you may think I'm a bit mad and you may be right).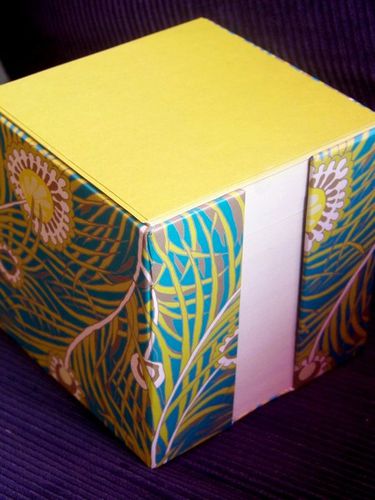 Sinon, comme dans tous les grands magasins, également des créateurs de mode du type Stella McCartney, Ann Demeulemeester, Vivienne Westwood ou Proenza Schouler. Monsieur G a également fait un bond au plafond à la vue d'un bête t-shirt en coton Balmain, à 1600 livres. Devinette: Combien d'heures un ouvrier doit-il travailler pour acquérir cette non chose? Ca fait peur.

Otherwise, as in every department store, great selection of designers from Stella McCartney to Ann Demeulemeester, not to say Vivienne Westwood and Proenza Schouler. Mr. G had an heart attack when he saw a simple Balmain cotton t-shirt priced 1600 pounds. Riddle: How many hours a worker must work to acquire it?
Liberty London - 208-222 Regent Street - Londres
Je passe du coq à l'âne en parlant desormais d'un créateur indien totalement fou mais que j'adore. Imagination débordante, couleurs vives, tenues à la limite du déguisement mais si originales. Bien qu'il soit basé à New Delhi, Manish Arora défile à la London Fashion Week.
C'est à lui qu'on doit ce genre de pièces:

Now, another designer, Manish Arora with his delightful colored creations. Imaginative with bright patterns, and quite extravagant. Although based in New Delhi, Manish Arora runs at London Fashion Week.
He's the brain behind those shoes, for instance:

Je ne dirai pas que c'est le genre de tenue qu'on peut porter au quotidien, mais c'est tellement gai et vibrant que ça me parle.

I would not say that this is the kind of clothes you can wear daily, but it's so vibrant and happy that it totally speaks to me.

Et si vous vous souvenez bien, lors d'une article sur les charity shops de la capitale, je vous disais être tombée sur une veste de Manish; bariolée à souhait; qui était repartie dans mes bagages.
La voici donc en vrai, avec ces détails très Bollywood:

And if you remember it, I told you once to have seen a great Manish Arora jacket in one of the numerous charity shops of the city, so this is it. Very Bollywood, isn't it?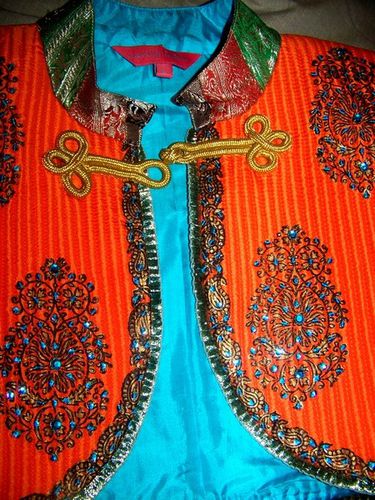 Et vue de loin, pour vous donner une idée de la coupe.
Worn, this is how it looks like.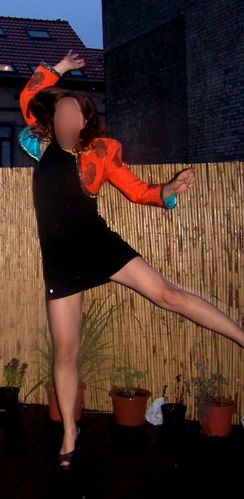 Oui je sais, je sais, vous allez me dire qu'elle vous rappelle ceci:
I know, I know, I bet you'll tell me it reminds you this:
Et alors, quel est le problème? Tout le monde sait que Paul fait partie de mes idoles non?
So what? What's the matter? Everybody knows I'm in love with Paul anyway!

Manish Arora - A Londres, il faut filer chez Harrod's ou chez Brown's (South Molton St). A Ajaccio, Dona Ferrentes, rue Fesch pourra aussi vous fournir. Sinon, à Paris, le Bon Marché et les Galeries Lafayette le vendent. Et en Belgique? Rien pour le moment.
Publié dans Boutiques, Voyage | Tags : londres, liberty of london, manish arora | Lien permanent | Commentaires (0) |
Facebook | | |